Elisa Taviti is a fashion blogger of "My Fantabulous World", that based in Italy. She started her blogging adventure in 2010 with a help of her fiancee Riccardo. Her looks are very basic, yet stylish and chic. Her motto: " Stay Cool, Stay Basic".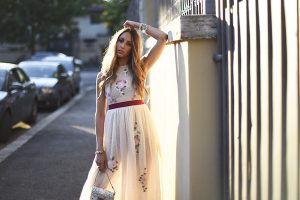 What do you like the most about your job? 
Without doubt the fact that everyday is not the same as from the previous one. I have the possibility to do and see many different things but above all to meet new people.
Which are the biggest challenges you face in your work? 
There is a new challenge every day. Our job is a phenomenon that grew in the recent years and there are still many walls to take down but I have to admit that I have been very lucky so far.  
How long does it take you to come up with an outfit?
Not that much, usually less than 10 minutes. I always have in mind the look that I want.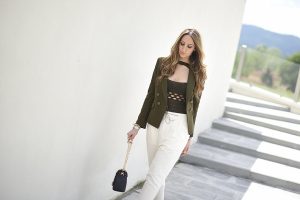 If you had to spend a large sum of money in just one shop which one would it be? 
Definitely Gucci.
Which is your favorite fabric? Denim is my all time favorite.
What we will never see you wearing? 
A mini dress and a bra with silicone straps.
Which city has the best dressed women? Stockholm. I am totally in love with the style of the Swedish girls.
What is the first thing you notice in a man? I don't pay much attention to men. I don't want to make my fiancee jealous.
And in a woman? Bag and shoes. Accessories drive me crazy.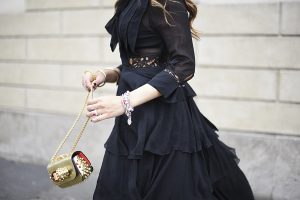 Which are the must have items for FW 16/17?
Embroidered jeand, loafers and a parka, which I think is a must have for any woman or man.

Your best place to hang out in Milan?
Rinascente, Temakinho, Excelsior, Corso Como 10 and High Tech.
If you had to relocate to another country which one would you choose?
Actually I wouldn't like living in another country. I love my beautiful Italy too much. I also enjoy Milan a lot, if I don't live here I think it is an amazing city.

How do you define success?
For me success is when we feel fulfilled doing what we love the most.
What do you want to do when you "grow up"?
First of all I would love to be a wife (and I hope it happens soon) and then to be a mum. As for my job if everything goes on like this I couldn't really ask for more.