Once your kid has outgrown a harness car seat, it is time to upgrade to a booster seat. These car seats are essential for the safety of your kids. It positions them so that the seat belt of your vehicle fits them properly. When they are between the ages of four to eight, car crash injuries are reduced by 45% when they are in boosters compared to those who are only using seat belts.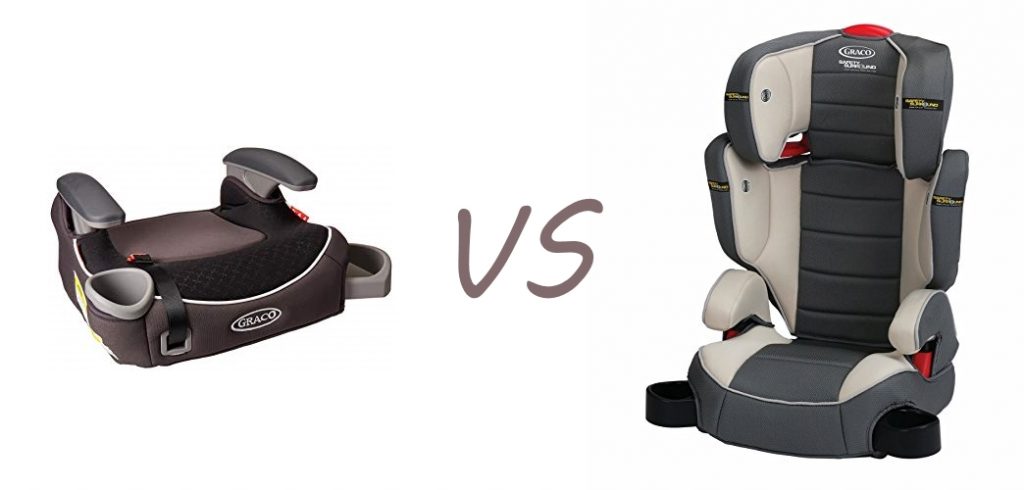 Your child is ready for an upgrade if he is at least four years old, his weight is 40 lbs or over, can sit up well for the duration of your trip, and if he is too tall for the car seat. However, choosing the right one can be daunting with so many choices available. And the biggest question is should you buy a high back or a simple backless model?
High-Back Booster Seat

These booster seats are the best to keep your child safe in your vehicle. They are a reliable device once your little one has outgrown his harness seat. Once you have made all the necessary adjustments, it can perfectly fit the seat belt of the majority of vehicles out there.
Pros
It comes with some excellent features that a backless model doesn't such as having a 5-point harness for kids weighing below 40 lbs, seat belt guides to ensure a secure fit, and some models even come with a removable back. There are also some combination seat models.
It has side wings and a headrest that protects the chest and head of your child during a side-impact collision. Its side wings also provide head support and keep kids comfortable and positioned straight up while they are sleeping.
They also have better LATCH connections which offer more protection in the event of a side-impact crash.
Lasts longer and spills, specks of dirt, and spits are easier to clean.
Cons
They are more expensive and weighs more making it difficult to switch vehicles.
It may also leave imprints on your car's seat, especially if its materials is vinyl or leather.
Its buckles should be tightened to be highly effective.
You will not be able to use it on two kids at the same time.
Backless Booster Seat
This model is easier to remove and will take less space in your car. Most backless boosters can position the lap belt on your kid's lap nicely. However, it may not provide a proper fit for vehicles with upper belt anchors that do not precisely fall in line with the child's shoulders, although there are some that come with a clip to help keep the seat belt in place.
Pros
One of the main advantages of this model is that it works best for older children and those who are taller for their age.
It provides ample head space, and it comes with a design where your kid can sit all the way back to your car's seat, offering more comfort and leg room.
They are lighter, simple to remove, and ideal for families that often switch vehicles.
Cons
This car seat is not the most comfortable if your kid likes to sleep during the ride, especially on long road trips.
It does not offer protection and support for the child's head.
It comes with a higher weight minimum.
Most models do not have a belt-positioning guide, making it hard to get a suitable fit.
Final Words
There are several factors you need to consider when buying the right booster seat for your child. Keep in mind the weight and height requirements, other safety means, and make sure to always check for any recalls. At the end of the day, what you choose should provide the best protection for your angel, meet your needs and budget as well.